The Super Camper: hits the road
It has been a long journey that spanned over about two years, but still hasn't added any miles to the odometer. The camper is finally almost done and it is about time we took it somewhere other than just around the block. In October 2006, Ryan finally had some time off work and I had a break in my travel schedule, so we decided to finally take the camper on its maiden voyage. The surf forecast looked promising, showing a mix of both South and North swells so we decided on Baja for our first destination.
Although the camper is ready for use, we still had a few details to finish up. We decided we should probably get an oil change. Ryan took the truck in to EZ Lube and the attendant was more than a little surprised to hear that our 2004 truck only had 500 miles on it!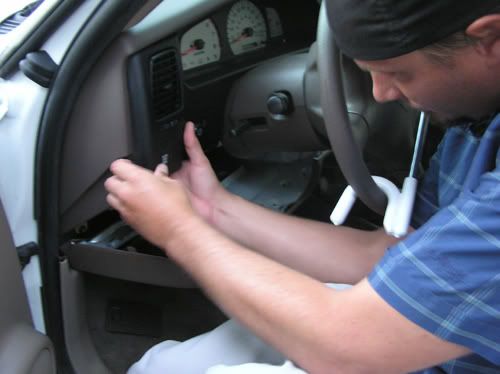 We also decided that we needed to install a "kill switch" for security. My mom thought that meant that if someone were trying to attack, a flip of the switch would then kill them! Nope, the kill switch is meant to make it so that even if they try to steal the truck, the engine won't start. This is a photo of Ryan taking apart the instrument panel on the truck to try to figure out how to wire the kill switch. Of course, we won't show a photo of him installing the switch. Some things must remain a mystery!
With all the added weight of the camper, the truck was riding a bit low in the back, so we needed to beef up the suspension. I drove out to Compton to buy a set of Helper Springs from the 4 Wheel Parts warehouse. The box claimed that the springs would "install in minutes with just one wrench". Of course, the one thing that we learned while building the camper is that nothing is that easy!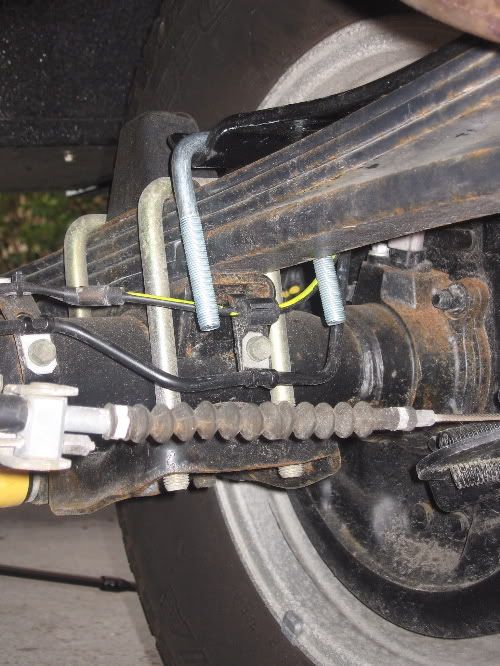 Here you can see the helper spring placed on top of the leaves. It has a U-bolt that must be tightened into place. Even though these particular helper springs were made for our model of truck, they still didn't seem to fit perfectly.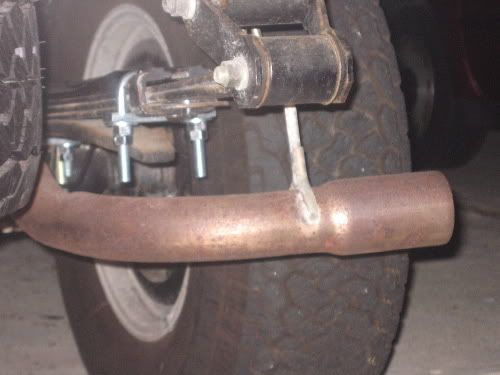 The bolt in the back was in line to hit the muffler, which wouldn't be good.
Ryan used his foot to try to bend the muffler back a bit.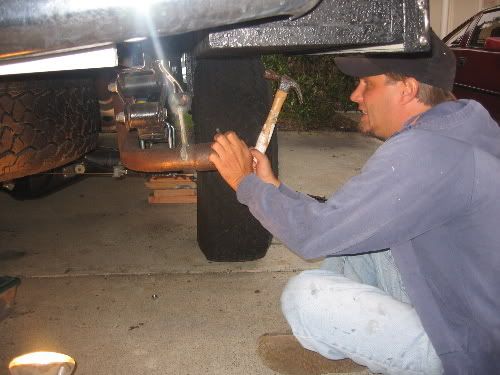 That moved the muffler but not enough, so he broke out the hammer to bang the muffler bracket back.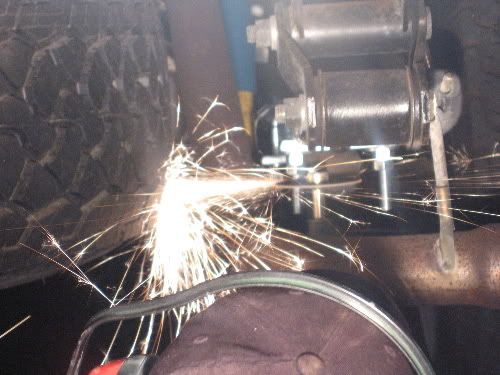 Eventually he decided to just shorten the obtrusive bolt. I always like a good spark show.
Here you can see the shortened bolt.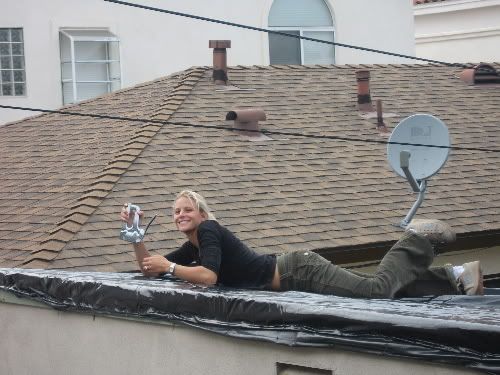 Before leaving on our trip, we also needed to complete a little apartment maintenence. A few months after moving all our stuff into the garage and Ryan even making a shaping room in the back, we realized the garage leaks really badly. Since the walls have been decimated by termites, we assumed that if the management installed a new roof they might just knock the whole thing down. We didn't want to bother with that, so about twice a year we buy plastic sheeting and staple it to the edges to waterproof it. This time I got the honor.
Other than a few select friends and family, not too many people have actually seen the camper in person. Ryan wanted to show off his project to his friends at work, so we had a camper party in the parking lot of Robinson Helicopter. I brought pizzas, and at lunchtime the engineers came out to poke around and check it out. Unfortunately, I didn't get a photo of the engineers looking it over, but here you can see it peeking out of its parking space. It is definitely noticeable!
Now, it is time to actually pack it up! Over the last two years we have been collecting camper supplies and they have been sitting in boxes here and there all over our apartment. I am very happy to have them finally in their intended places! This is a set of really nice stainless steel pots and pans that have removable handles and nest inside eachother. We received them from Ryan's parents as a gift. Thank you!
I'm putting them in the utility boxes, along with the stove.
Here is one of the chairs we bought on sale at OSH.
Here you can see the "dry goods" cabinet with paper towels, silverware, paper plates, aluminum foil, and even some tortilla chips.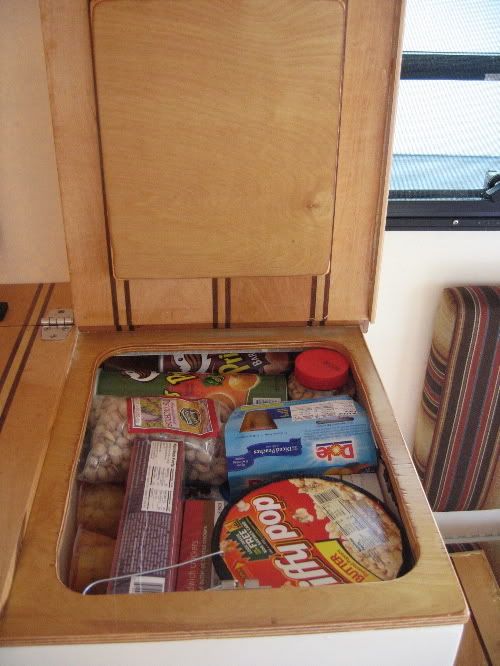 This is our favorite cabinet, the snack cabinet! It is packed with plenty of easy grab snacking foods like Pringles, beef jerky, granola bars, bean dip, powdered gatorade, crackers, peanuts, etc.
We designed these cabinets especially to fit canned food on top and six packs on the bottom. I had started to load some things into the camper a few days before, like a couple of Red Bulls and some CapriSuns. Ryan wanted to take the camper on a jog around the block to test out how the Helper Springs affected things. He took some corners kinda fast and went over a few curbs to see how it felt and when we got back home I had to clean up our first explosion. One of the Red Bull cans had been punctured leaving a sticky Red Bull-smelling mess! So, when I packed up for real I made sure to pack everything in tightly.
I bought two 5 gallon water jugs from the Army Surplus Supply store.
They were pretty heavy and we wanted to travel relatively light on our first trip. Ryan told me, "I don't drink water" so I figured ten gallons would be enough. Plus, we planned to spend a few days at Scorpian Bay which has a restaurant, so I wasn't worried about not having enough water.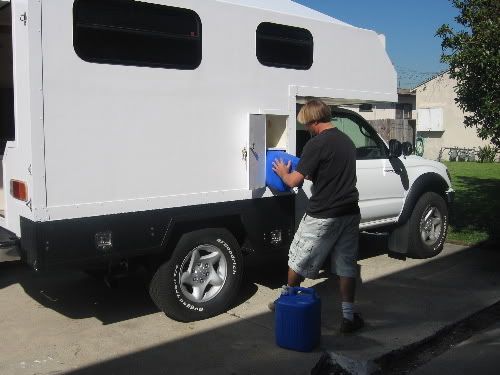 Here's Ryan packing the water into the specially designed water cabinet.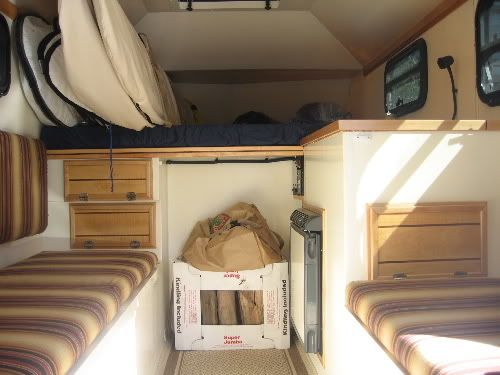 Here you can see the camper loaded and ready for action! I made two longboard covers out of natural denim to keep wax from getting everywhere. We stacked 7 boards and strapped them to the wall (we were only supposed to bring 6, but I couldn't decide and had to bring 4 myself). I bought the "Super Jumbo" box of firewood from OSH and brought along a bag full of junk mail and paid bills to burn as kindling.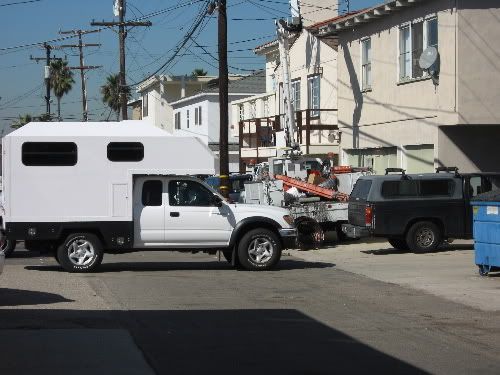 This three shot sequence shows us pulling out of the drive way and on our way....
CROSSING THE BORDER....
Viva Mexico! Our first shot of the camper South of the border!!!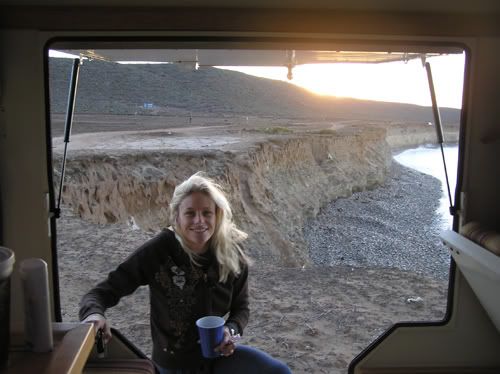 We had left Redondo Beach around noon, and after a quick stop at Harbor Freight to buy another flashlight and some green Slime tire repair, we got on the road. Upon first getting up to speed on the freeway, the camper was jumping around like crazy and the ride was very bouncy. Ryan started to panic. We were trying to figure out why it was so out of control and theorized that it might be due to the fact that we had added extra spring but not extra shocks. At one point we thought we might have to abort mission. Then I remembered that when we first bought truck, when it was still intact, I had driven it to Ventura for a Freestyle watches photo shoot. I recalled that on the freeway at certain speeds it had felt super bouncy, exactly like it was feeling then. I told Ryan about that and we expiremented with different speeds. He then explained the concept of resonance. We figured that the length of the wheel base was exactly perfect for the bumps in the freeway so that it bounced non-stop. He told me the story of some bridge that actually collapsed because of a strong wind that had the perfect frequency to start it vibrating and eventually it just crumbled apart. Soon the freeway smoothed out a bit and we continued on our journey.
We made it to a surf spot called Quatro Casas just in time for the sky to blacken and hopped in the back for our first night sleeping in the camper. We awoke to our first beautiful sunrise in Mexico. Here I am climbing back into the camper after brushing my teeth. This may sound a bit strange, but I love brushing my teeth while travelling. It's one of those rituals that you do every day, usually in front of your home bathroom sink. I remember the first boat trip I took to Indonesia, standing over the back of the boat with the stars blazing above me and the warm water shimmering below me, and spitting the toothpaste into it. It was such an amazing feeling. Since then I always get excited about brushing teeth outside in unusual surroundings. I felt that way about brushing my teeth and spitting into the bushes next to the camper in Baja.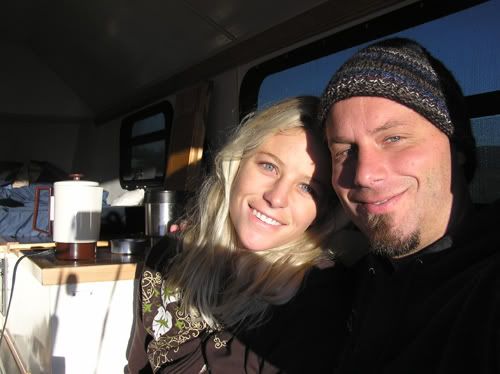 Here we are, looking not quite awake with the early morning sun shining into our eyes.
I am eagerly awaiting my first cup of coffee. We used a travel coffee percolator to just heat water and then used a cone and filter to make coffee directly into our cups. MMMMMmmmmmm! Coffee!!!!
The waves out front looked really fun, but the tide was rising and Ryan assured me that wouldn't help, so we decided to continue driving South.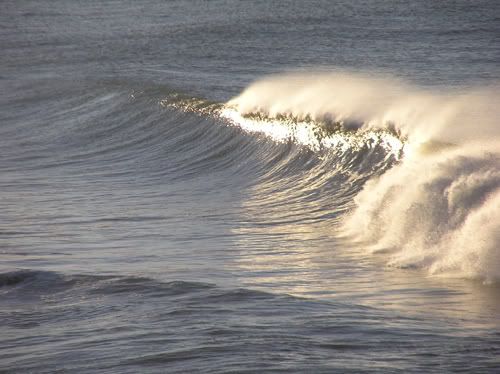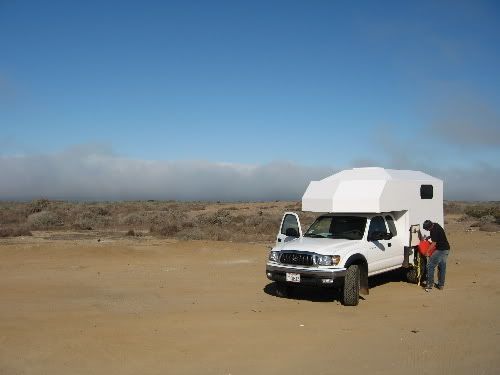 We were also carrying an extra 5 gallon can of gas. Gas stations are spaced very far apart in Baja. We actually had to dip into our secret stash of gas to make it to the next station.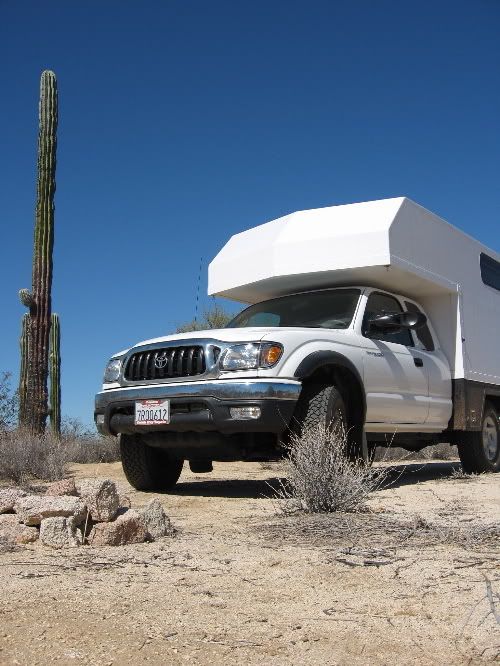 We took a break to admire the big boulders and have a picnic lunch. It was a great photo opportunity. After taking so many photos of the building process, we felt the need to balance it with a ton of photos of the enjoying process! Hope you don't mind.
Admiring our shadow...
After a complete day of driving, we showed up to Abreojos just before sunset and set up camp along the sandy dunes. Here is a photo of our first campfire! The camera flash definitely takes away from the mood.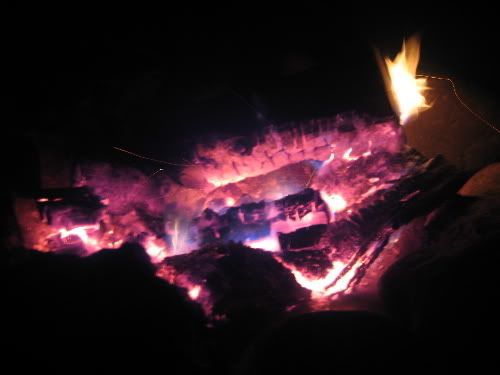 Flaming...
The point at Abreojos. It wasn't epic, but it was very fun and uncrowded! The water was warm enough to wear just a wetsuit jacket.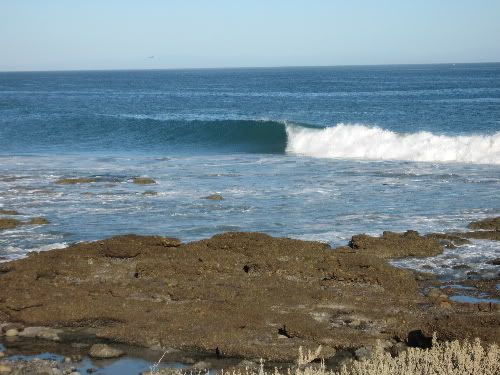 Here is an invitingly empty wave right in front of our campsite.
I liked this bird.
If you look closely you can see Ryan in the wave just above the mirror. We bought mirror extenders at Meyer's RV in Torrance. They helped to see cars behind us since our rearview mirror has been made useless. They were a little difficult to get used to.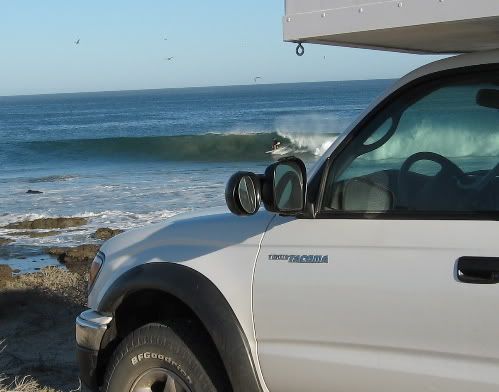 Here's another wave with Ryan on it.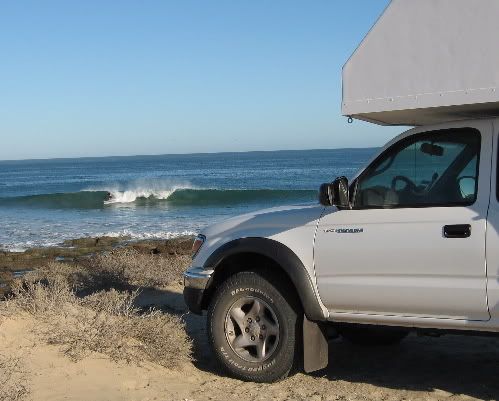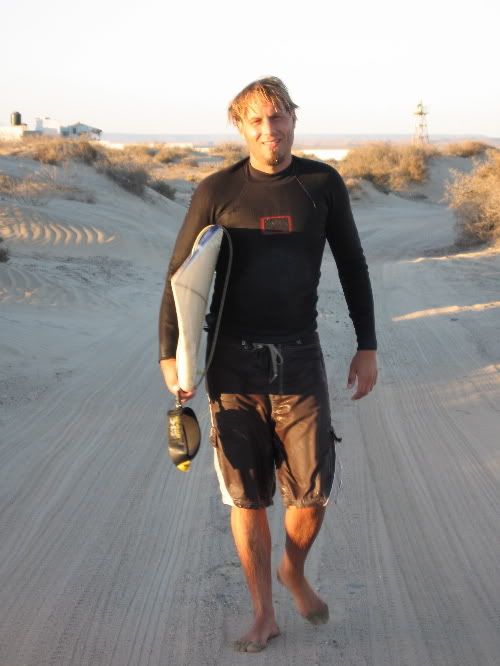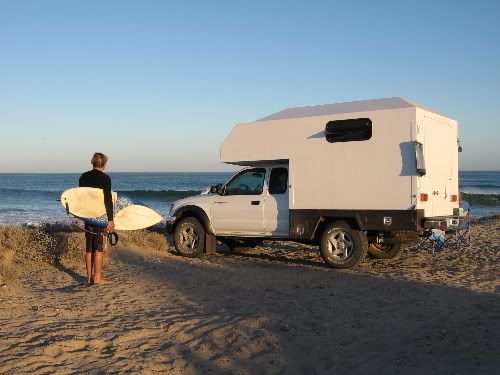 I was sitting by the fire, zoning out looking into the flames while Ryan was getting the meat ready to cook when I felt something tickle my toes. I thought it was just a leaf or something like that blowing in the wind, but then it went back the other way. I grabbed the flashlight to have a look and saw a cute little mouse hanging out with me! He was a little skittish and would run away and hide under the tire of the camper and then come back and hang out for a while. Ryan even pet him! I thought he was really cute and named him "Mousey".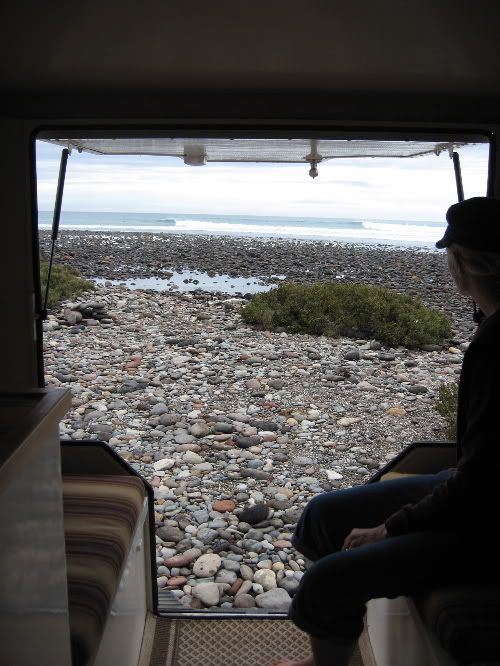 We had planned to head to Scorpian Bay the following morning, but were surprised by rain, loud thunder and lightning at 5 am. It felt really nice to be warm and dry in the camper with the raging wind and rain outside. I was very glad to not be in a tent! At dawn we made coffee and began to drive back towards the highway. The rain got worse and worse until it was really pouring down hard. Ryan kept saying he had never seen so much rain in Baja. The sky was dark in all directions. We got back to the highway and pulled over to consult the map. We had heard that the road into Scorp had been decimated by a hurricane a few months ago and was sketchy even when dry. We didn't want to chance it in that weather so we decided to head North instead. A text message from Bill Watt at home base revealed the news that Hurricane Paul was off the coast of Cabo, which only confirmed our decision.
Pulling up at our next campsite, I was amazed to see this.... long overhead rights peeling down the point with only one guy out! I got really excited! It was all Ryan could do to keep me from rushing out there immediately. He slowed me down by suggesting we make some bacon and potato burritos. I was starving, so I gave in and agreed to wait. He assured me that the wind would only get better and the tide would help as well. As usual, he was right!
The water was a few degrees colder here. It was perfect for a short-arm-fullsuit unless the wind was really blowing. The rocks made booties a good idea, and Ryan had a bad rash on his neck from his wetsuit so he is wearing a longsleeve rashguard underneath. Not exactly winning any style awards, but the 4-fin he shaped made up for it. That afternoon the tide came back up, the wind turned offshore, the clouds parted just enough to create two complete rainbows that combined with their reflections made a full circle. It was amazing, one of those magical surf sessions that aren't easily forgotten. Basically, we scored!
The Super Jumbo box of firewood didn't have nearly as much wood as the name suggested. Before building a fire each night, I scavenged for logs and sticks to add to the fire.
We participated in the Mexican tradition of trash burning.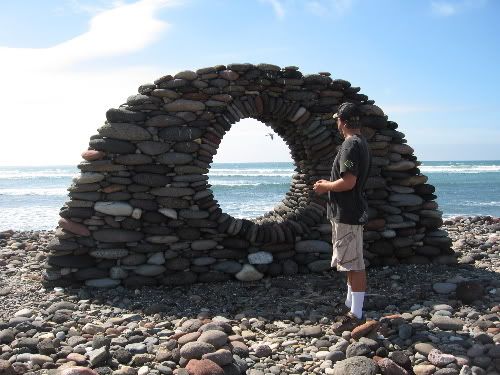 One afternoon we took a walk to hunt for arrowheads. Ryan told me we had to think like Indians. He must have been doing a good job because he found one! Later on in the hike we came across this impressive structure. Long term campers at this spot have a lot of time on their hands and a lot of rocks to construct with.
Ryan was inspired and constructed a rock pile of his own.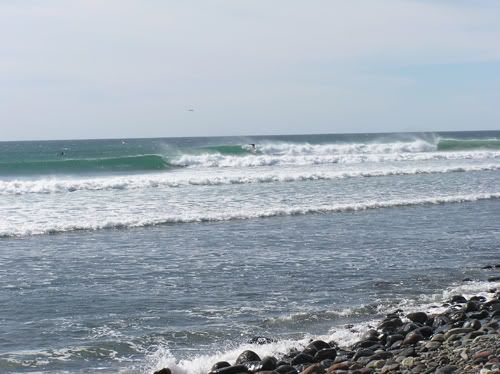 We don't always agree on wave quality, but we both really enjoyed the waves here.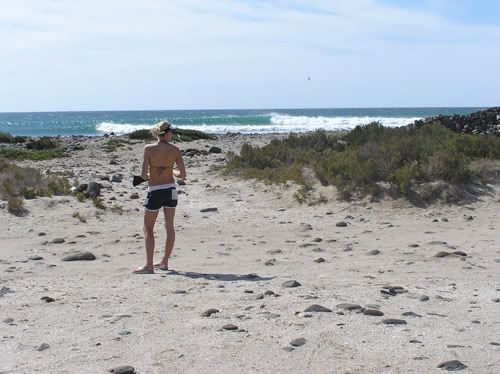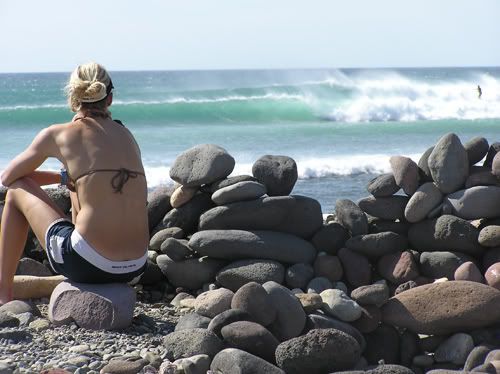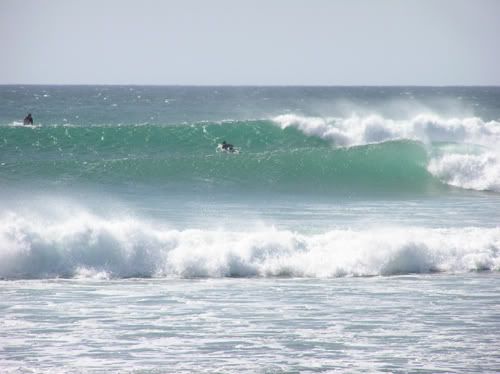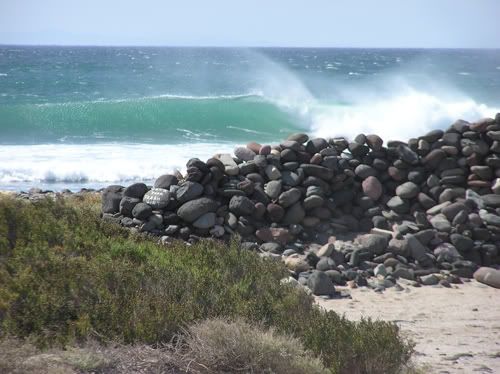 Ryan made friends with a guy from San Diego named Chris who had built his camper as well. He was a very nice guy and an entertaining surfer.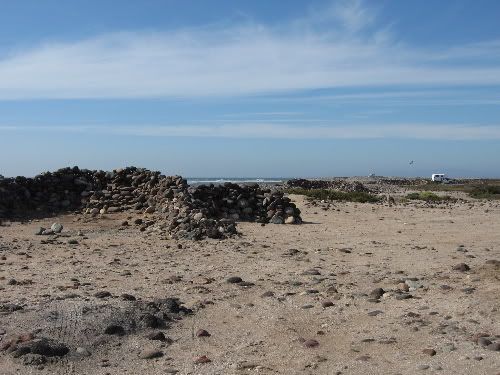 The camper off in the distance. It's white paint made it really stand out!
I'm cooking sausages for lunch.
Ryan prepares some tequila shots while I make notes in the camper log.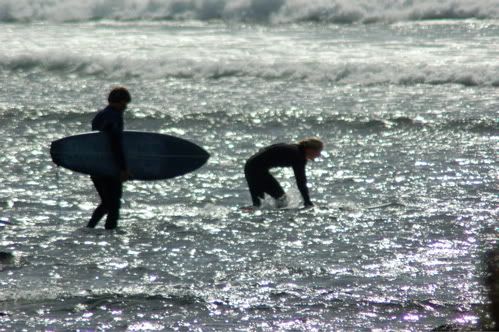 Ryan and I paddling out for a surf together.
Me, on the first wave of the set, and Ryan on the second. We were hogging all the good ones!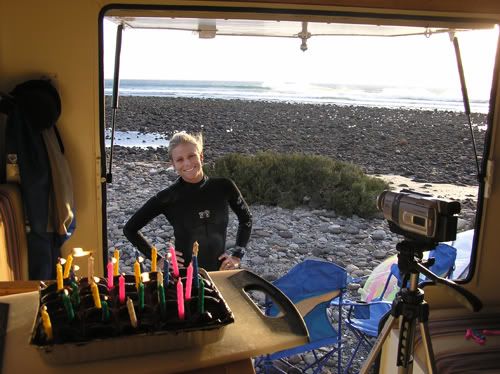 On October 27th, I turned 26!!! Ryan offered to film my surf session since i'm usually the one filming him. I was happy about that and then when I came in he had a chocolate cake that he had smuggled down in his toolbox (probably the one place he knew I wouldn't look) filled with candles! I was totally surprised and excited!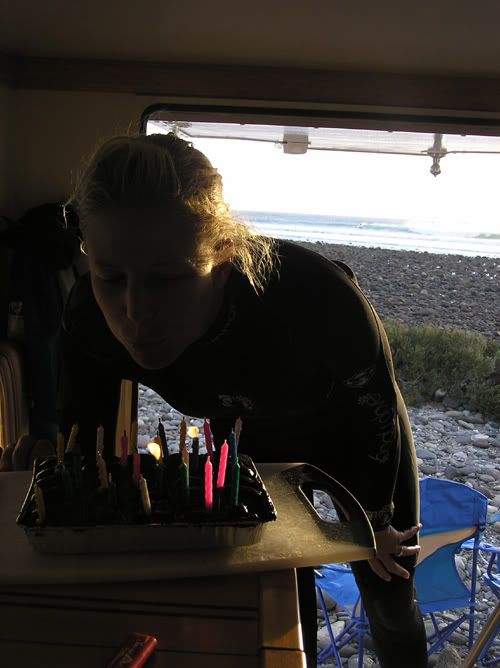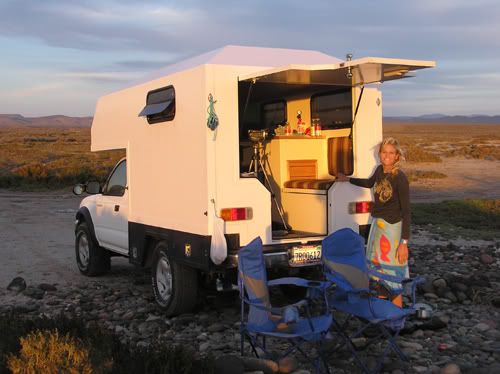 He had also filled the camper with balloons! What a cutie!
Happy Birthday to me!
I couldn't have asked for a better birthday week! It was the culmination of two years of work and yearning to be able to just enjoy it. The camper performed very well and we scored so much epic surf that in the end we actually drove away from really good waves. We were completely surfed-out!
The saga of the camper is still far from over though. We already have a list of modifications to make it even better, and of course more trips planned. This will probably be the last update for a few months.
Thanks for looking!
Holly